Books
[REVIEW] IQ84 by Murakami Haruki, A Bizarre Parallel World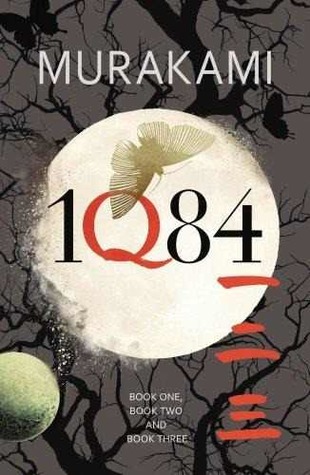 IQ84
IQ84
Murakami Haruki
Romance, Surrealism, Mystery, Thriller
Vintage
August 2nd, 2012
Paperback
1318
The year is 1Q84. This is the real world, there is no doubt about that.
But in this world, there are two moons in the sky.
In this world, the fates of two people, Tengo and Aomame, are closely intertwined. They are each, in their own way, doing something very dangerous. And in this world, there seems no way to save them both.
Something extraordinary is starting.
It's been a while since I posted the last book review, lol.  Well, it is kind a shame, for me, because I only read 7 books out of 9 that supposed to be done by the end of March.  I currently have made a plan to read 3-4 books each month, but there are obstacles (obstacles? lol) so… yeah, I finally made a review about 1Q84.  I finished this trilogy about 2 weeks ago, so from Jan-March the only book I'd read was this, :'D
IQ84 by Murakami Haruki, A Bizarre Parallel World
Have you ever imagine about entering another world through a tunnel, end up in the somewhat similar but this-is-actually-not-my-living-place-to-begin-with?
That was what Aomame experienced.
She is one of the central character a.k.a main female character or MFC in this book. When she was on her way home after killing a man, she realized that the tunnel she entered was at the entrance to a parallel world, where the world had two moons side by side in the sky. Aomame could not go back to her own world, in 1984. She was trapped into another world that had something in common with her own world, but in IQ84.
She was, well, has a cool character that in fact hiding her anger which had been inhabited for years. She has two jobs; while she worked as a trainer at an exclusive gym, she was also a murderer.  But she never killed blindly, her victims are always men.  They have similarity: each of her victim always do harm to women. Her employer (who asked her to kill)  is  an old wealthy dowager who lost her daughter in a suicide incident; or it seems like a suicide. She owned a safe house  for women who experience domestic violence.
Aomame was an ex-followers of religion which was the cause of her trauma in the past.  She doesn't believe in God anymore, because  she was forced to follow some rituals that ostracized her from her school mates. The only boy  who is quite "friendly" with her is Kawana Tengo.
Meanwhile, in the other part of Tokyo, Kawana Tengo was offered an option by Komatsu, an editor, to become a ghost writer. Tengo was formerly known as prodigy kid because of his ability in mathematics. But over time, Tengo is not so enthusiastic about living as a prodigy, making him end up as a  part time teacher at a cram school.  This is influenced by his own mind which assumes that the father who lived with him so far is not his real father. Tengo's first memory was his mother, who was "raped" by another man who was not his father, making Tengo feel wasted because he was not considered a child.
Tengo has an interest in writing, but so far he has not been very successful. Komatsu thinks his work has no soul. That's what makes Komatsu feel Tengo can learn a new thing if he rewrites the work of Fuka-Eri entitled Air Chrysalis. This fantasy novel has an interesting storyline because it tells a story of Little People, a girl, a blind goat, and the world that has two moons. Tengo finally agreed on this idea, but he never thought that the idea would drag him into an event related to Fuka-Eri's life, and dealt with another reality revealed by Professor Ebisuno, her guardian, about  occult religion named Sakigake.
This business makes Aomame and Tengo  in danger.
My Impression About The First Book of 1Q84 
BOOOOORIIING.
After reading the first book (these three books were decapitated by the months they were in parallel world), I did not like it because the progress is like a snail.  I was wondering,  what is the red thread that connects Aomame and Tengo? I mean, the background story of this two main characters has a large gap and I even didn't know what kind relationship they will have or already have. In Chapter 13, finally there is something quite interesting, so I want to continue reading this novel.
It took about five weeks to complete book one. And it took five weeks to realize the intent of IQ84, haha. In fact, the first book is  about Aomame and Tengo personally, what shapes the character and also their choice of how to live their life.
But because of the very slow plot, making the first book does not give the impression "this story seems exciting." Moreover, Murakami's habit of writing about sex is quite explicit. I am not so disturbed by the narrative of the sex scene, but there are some repetitive phrases that make me think: does Murakami have no other vocabulary to tell us about the same events told here? "
And the repetition of sentences, as well as the repetition of scenes, I think it is such a waste than it seems to be asserting how spectacularly important the scene for those main characters. If that does not happen, chances  the number of pages in this book can shrink drastically to 200 pages!
Conclusion of the first book? You should read from Chapter 13.
 My Impression About The Second Book of 1Q84 
Finally,  this goes into the section I'm looking forward to from the beginning of the book. The pace in the second book is faster than the first. The conflict starts to tighten. The role of Aomame and Tengo looks somewhat clearer here. Aomame was asked to kill a man who turned out to be the leader of Sakigake. At the same time, when sales of Chrysalis Air books jumped dramatically, this provoked a reaction from Sakigake.
Here, a new character named Ushikawa is raised. Ushikawa is a representative or extension of the hand of Sakigake. He is not a follower of that religion, but his ability to gather information is supposed to help Sakigake to seek out the presence of Aomame and persuade Tengo to come to their headquarters. The interests of each person start colliding with each other, making the story in the second book become much more interesting.
Only, I myself still do not fully understand about the world inhabited by Aomame. He called it the year 1Q84, a world where there are two different months of adjacent color. The story itself is more like a fantasy, but at the same time, it becomes one of Murakami's works that shows the surrealist side. Perhaps this is also the author's goal when describing two worlds that have been and are inhabited Aomame: an astonishingly early madness, now a part of life and has become commonplace. Meanwhile, something that is common now considered to be something strange.
This is evident when Murakami repeatedly describes the two moons that are now part of Aomame's everyday life, and then part of Tengo's life.
My Impression About The Third Book of 1Q84 
In fact, the strangeness  that occurred in the world of 1Q84 has become a natural thing, but at the same time, there is one oddity that makes me a little disgusted with the third book. This will be a spoiler, but I'll tell you: I feel like Aomame's pregnancy is somewhat like …  through a rape? Although the process itself is not really like that 😛 .
The conflict began to somewhat subside in the third book, and I began to feel Tengo useless at all, hahaha. That is actually recognized by Tengo, when finally Aomame and Tengo are both looking for each other's existence. Not so much he did except realize that he was "lost" and had entered Cat Town, Tengo's description for the world with two moons.
In the third book, Ushikawa's perception becomes part of Murakami's way of telling this story. A review in the Japan Times revealed that Ushikawa actually appeared in another Murakami book, explaining the life of Ushikawa before. This also explains the end of Ushikawa's unlucky life. But here, I feel Ushikawa is a new independent figure who prefers to keep his own information, and this is also the cause of his death.
Regarding Sakigake, I am a bit disappointed that there is not so much action they do when "chasing" Aomame. Although it needs to be understood, because it was still 1984. Technology is not as advanced now. The pursuit of certain individuals is not as smooth as it is today. But since the core of this story is about Sakigake, I am somewhat disappointed that Murakami is not telling any more about this sect … although it is also clear why their secrets are closed so tightly.
The ending of the story is actually quite encouraging, at least not disappointing the expectations of readers. Therefore, I consider this novel 3.5 of 5. The implicit meaning that Murakami wants to convey is well received (although to really understand his world I need searching first).  There is a religious-related cynicism (to my knowledge, Murakami is an atheist), because most of the discussion here is related to religion. Is it actually his critics related to  Aum Shinkiryo, a sect that looks very much like Sakigake and established in 1984? True or not, only the author himself knows.
This is not the kind of book to read while relaxing tea, so be prepared to be drown in a parallel world through 1Q84 series!
Azzahra R Kamila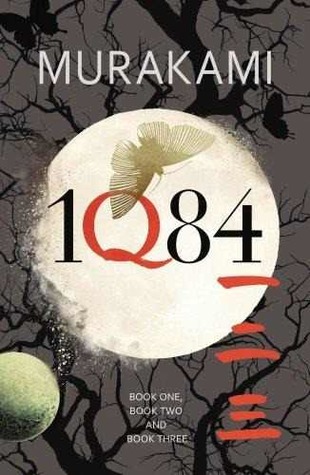 IQ84
IQ84
Murakami Haruki
Romance, Surrealism, Mystery, Thriller
Vintage
August 2nd, 2012
Paperback
1318
The year is 1Q84. This is the real world, there is no doubt about that.
But in this world, there are two moons in the sky.
In this world, the fates of two people, Tengo and Aomame, are closely intertwined. They are each, in their own way, doing something very dangerous. And in this world, there seems no way to save them both.
Something extraordinary is starting.
Her blog has a concern for cruelty free and halal products. Her skepticism makes her doing research about science behind beauty, as she wants to educate readers to carefully choose cosmetics ingredients before buying. In addition to beauty, she also likes to discuss slice of life as well as book reviews.